Crispy Coconut Shrimp – fresh shrimp dipped in coconut batter, then rolled in an aromatic combination of coconut flakes, breadcrumbs and spices. So Decadent, So Exotic, So Tasty!! Can be baked or fried!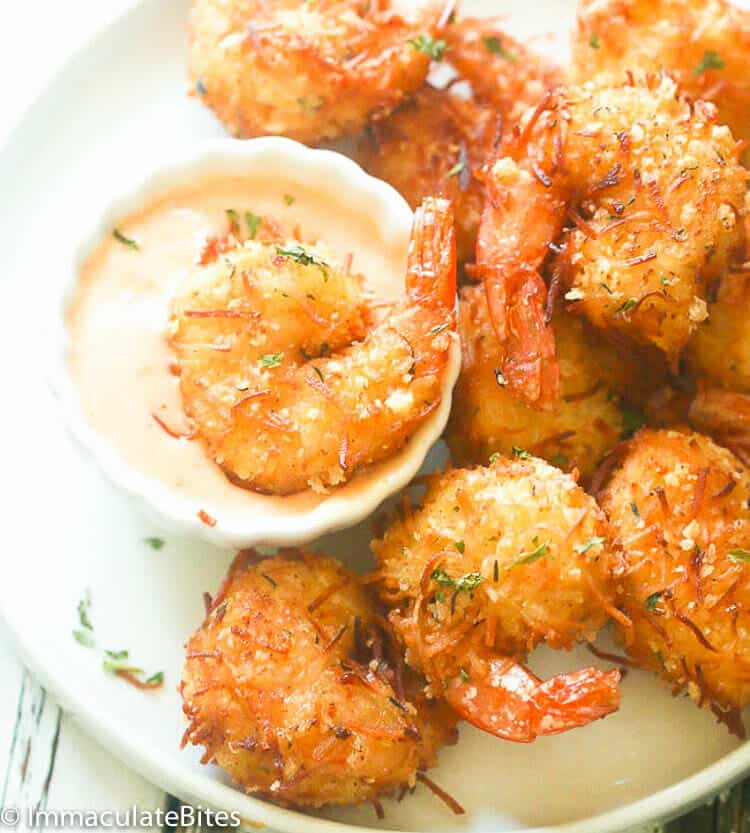 Transport yourself to the Caribbean with this coconut shrimp. It requires very little time and is always a crowd-pleaser. It would satisfy your craving for something light and sultry.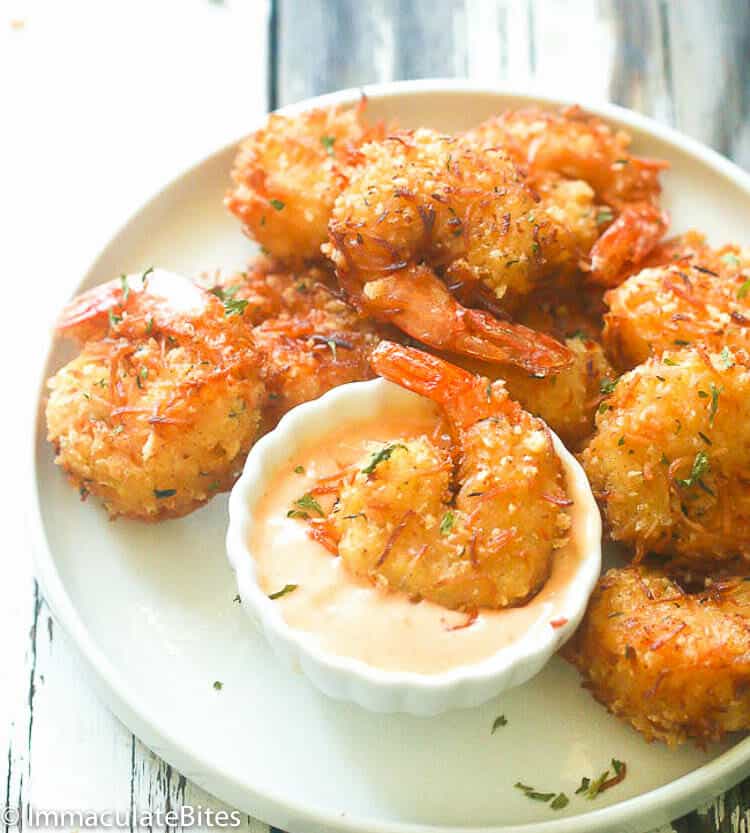 Fried or Baked Coconut Shrimp
This is one those recipes that you can easily whip up especially when you forgot to thaw your frozen protein or simply because you've done so much for day.
In this recipe, I used coconut flakes, garlic powder, dried thyme, paprika, and bread crumbs to coat these juicy fresh shrimps that hubby got from the market. And that's not it!
The batter here isn't your average Joe. It is made with flour, egg, and coconut milk. Yes! That's like "double coconutty treat". If that's sounds too much for you, you can always play around by substituting it with water, beer or milk. (Psssstt… go with beer if you're serving it as an appetizer. 😉 )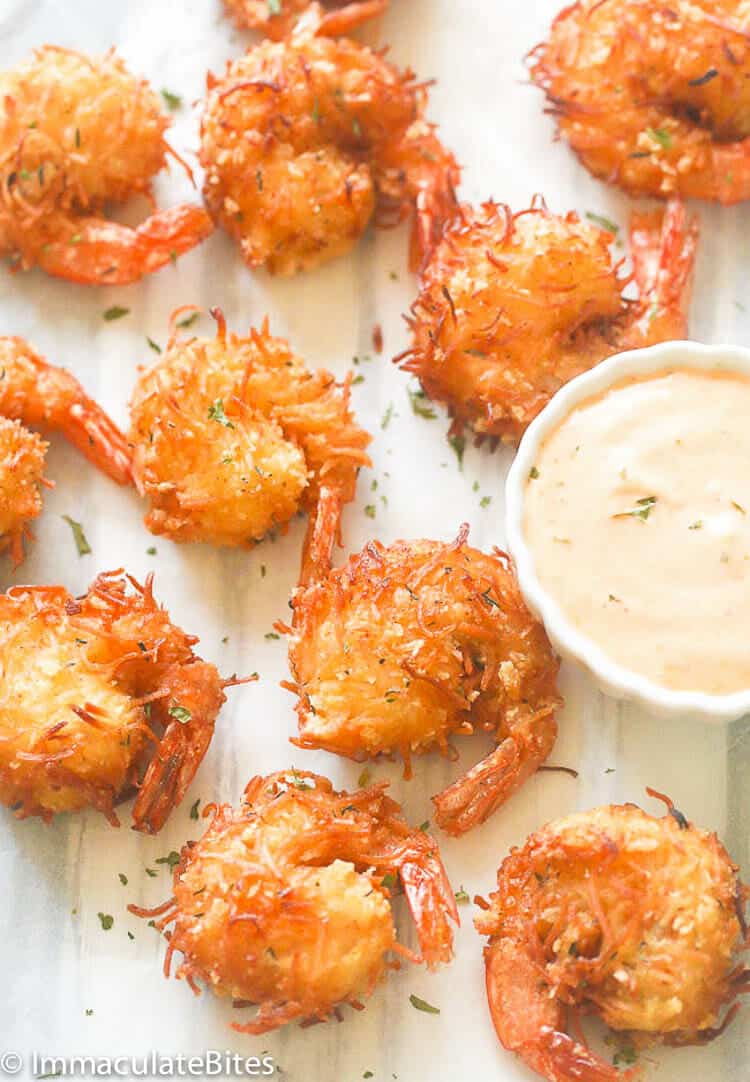 These shrimps are super crispy on the outside, sweet and tender shrimp on the inside. You can even bread the shrimp ahead of time and let them rest in refrigerator until ready to bake. Talk about easy dinner!
After baking or frying you are left with a crispy coconut exterior and succulent tender shrimp inside. If you simply can't deal with hot oil and the unwanted calories , then go the baking route. I guarantee you that it is equally delicious as the fried ones.
Coconut Shrimp Dipping Sauce
And what's a good coconut shrimp without some dipping sauce? To complement the shrimp, I like serving them with a sweet creamy dip like pineapple marmalade, Dijon mustard and mayonnaise combination. Or if you want more heat in your mouth, go pair it with sweet chili sauce or sriracha aioli dip.
AD
How about this Caribbean pepper sauce HERE ? You get to decide.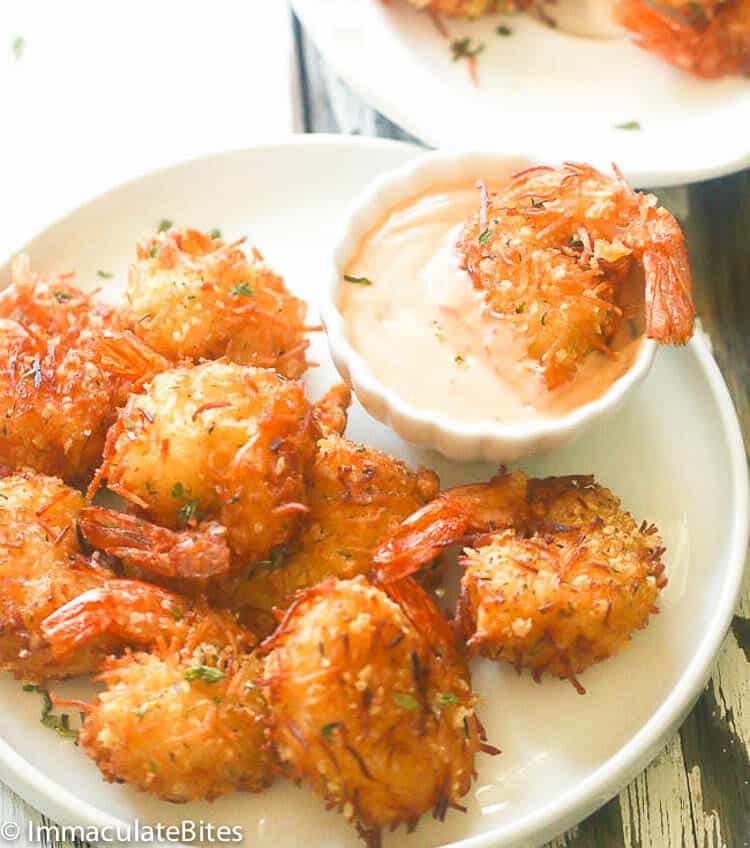 Whether as a regular weeknight dinner or as party appetizer, these scrumptious, crunchy, sweet and no-fuss coconut shrimps will always be a Mom's favorite. No one will complain and they won't even notice that it only takes less than 30 minutes to prepare. 😉
Enjoy!!!
Watch How to Make It
Tips and Notes:
You can replace coconut milk with water, beer or milk.
You may use Panko instead of regular breadcrumbs.
If you want more sweetness into this dish, substitute coconut flakes with sweetened shredded coconut.
If frying , place shrimp in hot oil about 375°F fry directly until shrimp is crisp and heated through, about 3-5 minutes.
See make-ahead notes in the recipe box.